BENEFITS FOR CUSTOMERS
Our Automatic Passenger Counting is a highly innovative technology that provides information about passengers boarding or alighting public transit vehicles. Data from automatic passenger counting systems are crucial for developing transport concepts for the cities of tomorrow. Our Passenger Counting Platform is a solution, which significantly helps reduce expenses, increase passenger safety, and optimize fleet operation

Public Transport Authorities Benefits
Real-time data of passenger occupancy
Improves timetables and network plans
Flexible adjustment of vehicle capacity

Increases profitability and efficiency
Optimizes the use of fleet resources
Controlled payment systems and ticketing


Automatic Passenger Counting System Components
COUNTING SENSOR. Streamax P3 Passenger Counting sensor for collecting the data with 99% accuracy
WIRELESS GATEWAY. Teltonika RUT955 with NaviFleet Firmware which stores the counting data, processes it and transmits it to NaviFleet Software
NAVIFLEET APC SOFTWARE. NaviFleet Software allow transport dispatchers monitoring and controlling Passenger Data. Reporting System create various statistics about passenger flow. Third parties solutions can be integrated through API interface.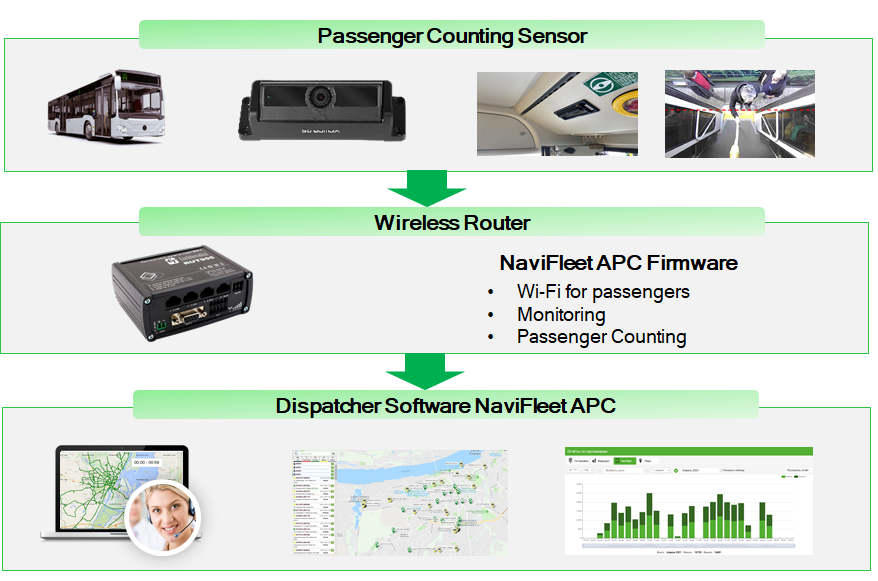 PASSENGER COUNTING SENSOR
| | |
| --- | --- |
| Leveraging the artificial intelligence algorithm, P3 is a professional on-board passenger counter. It can accurately identify the on and off directions of passengers, thereby accurately counting passengers getting on and off a vehicle. In addition, it can synchronize passenger flow data to the MDVR through the network interface. The MDVR uploads the passenger flow data to the platform for analysis and statistics. | |
Wireless Router Teltonika RUT955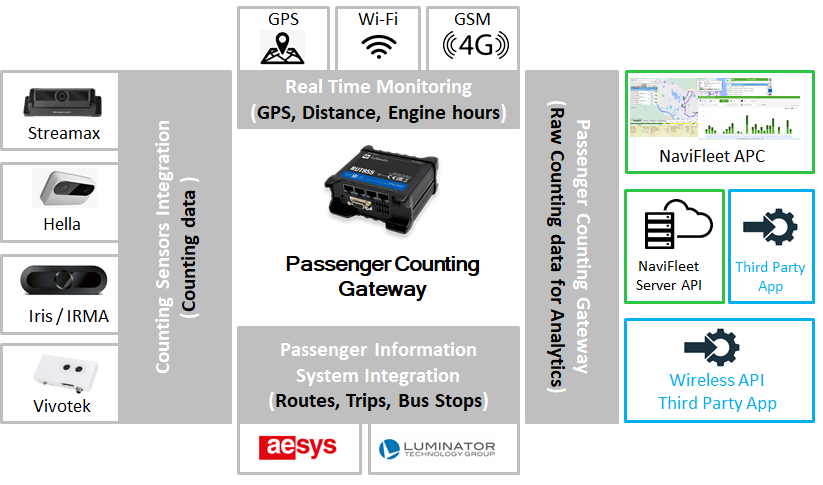 NaviFleet APC Software
| | |
| --- | --- |
| | |
| | |
APPLICATIONS
Integration with ticketing system

Comparing passenger flow and tickets sold
Video clips storage for future control
Ticket / passenger flow statistics in route/trip/bus stop



Integration with Wi-Fi collector

Software inside of wireless router
Origin-destination matrix based on mobile device presence
Respecting GDPR: No privacy related data collected



Integration with video surveillance system


Connection to IP cameras through wireless router
Remote video download
On-line video