Background
Transtira one of the largest, most modern and experienced Lithuanian private capital enterprises involved in supplying transport and logistics services to Northern and Eastern Europe. Transtira began business in 1993 with the goal of gaining international recognition for our business and becoming a key partner in international supply chains.
25+ years. We have two decades of experience in the sector.
95 % of our cargoes are transported by our own vehicles or with our partner's vehicles
1000 trucks. The average age of the trucks in our fleet is 3 years and under
Broad network of partners in 23 European countries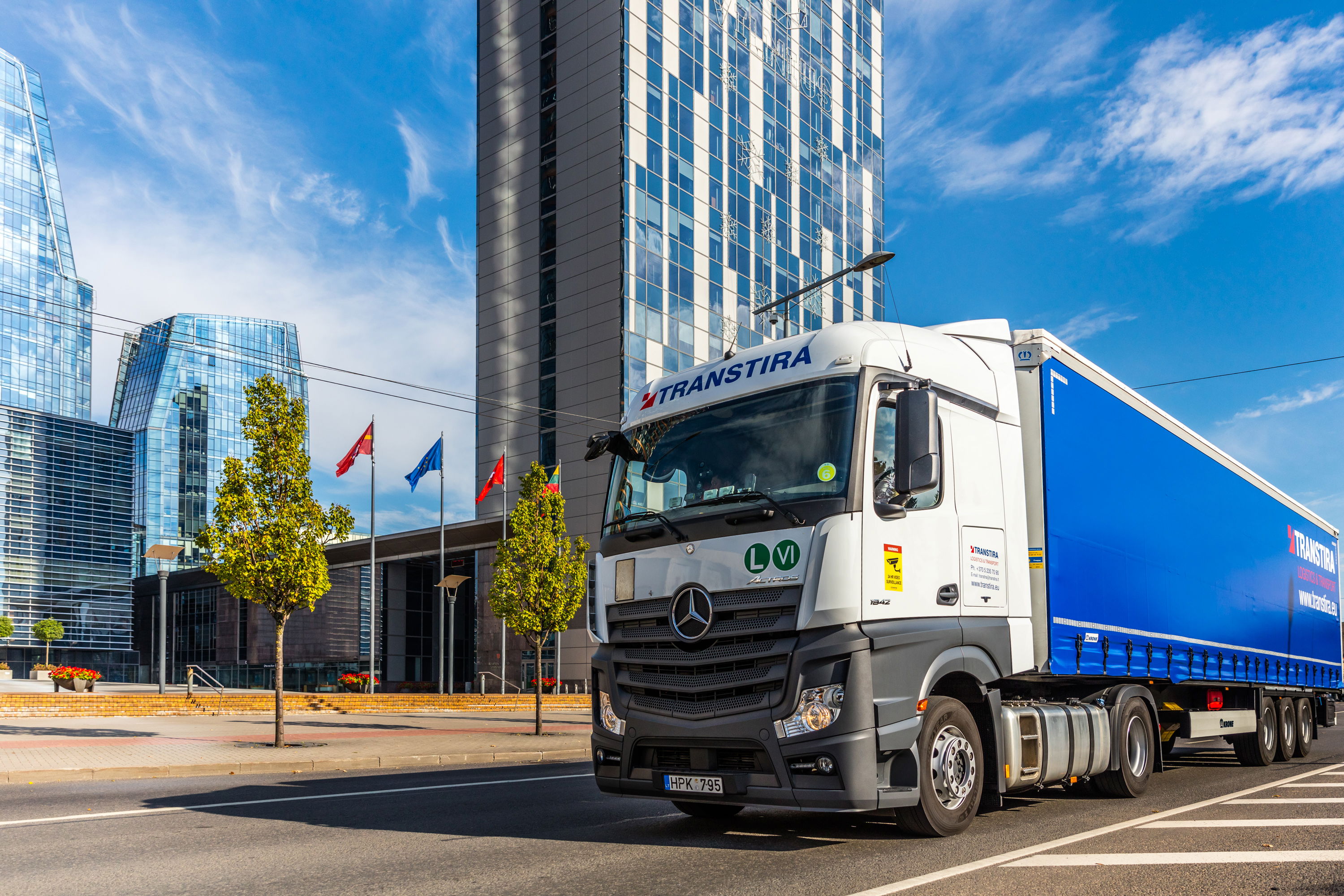 Challenge
Many Transtira customers rely on the trucking company to control their goods in real-time over long distances. Transtira required a solution that would allow them to monitor location information on their trucks and real-time communication with drivers to ensure the timely delivery of goods. Transtira turned to EcoTelematics Group Oy to provide a comprehensive fleet management and GPS tracking solution that would ensure the requirements of their customers and own daily task for fleet operation.
Solution
EcoTelematics Group Oy deployed Fleet Telematic device with Garmin Navigator to provide a solution that Fleet Management can use to monitor vehicles and communicate with drivers in real-time.

Fleet Management solution includes:
Tachograph Solution. Remotely download digital tachograph files and driver card files. Make tachograph file management fast, easy and error-free. Manage drivers working, driving and resting times based on (EC) 561/2006 regulation. Plan better trips and avoid fines for violating driving time regulation.
Telematics data. Monitor and analyse truck parameters, that are related to fuel consumption and safe driving. Main reading parameters are Driven distance, Driving time, Fuel consumption, Cruise control, Average speed, Fuel consumed, Idling duration, Maximum speed, Axle weight, Trailer application and others.
Garmin application. Driver Communications from web portal, Text individual or group drivers, Broadcast messages to entire fleet. Build & save routes for future use, Send notes for each of your stops, Modify, delete, reorder driver's stops,
NaviFleet™ Mobile application. Dispatchers can manage and operate their fleet group form any places.
Integration with third parties systems, like TimoCom, Project44 and others.
Benefits
The NaviFleet™ Fleet Management system provides Transtira with a significant return-on-investment in two distinct ways. First, Transtira is able to use the real-time, location-based vehicle information to monitor the efficiency and operations of the fleet; and second, to provide a service to customers that meets all requirements and guarantees the safe arrival of the product at their destinations.
01.02.2021